A Portrait of Marszałek
A photo-portrait of Marszałek Józef Piłsudski
Barbara Rylko-Bauer
I remember this photograph of Marszałek Józef Piłsudski from my earliest childhood, although I can't recall where it sat in our first home, on Chopin Avenue in southwest Detroit.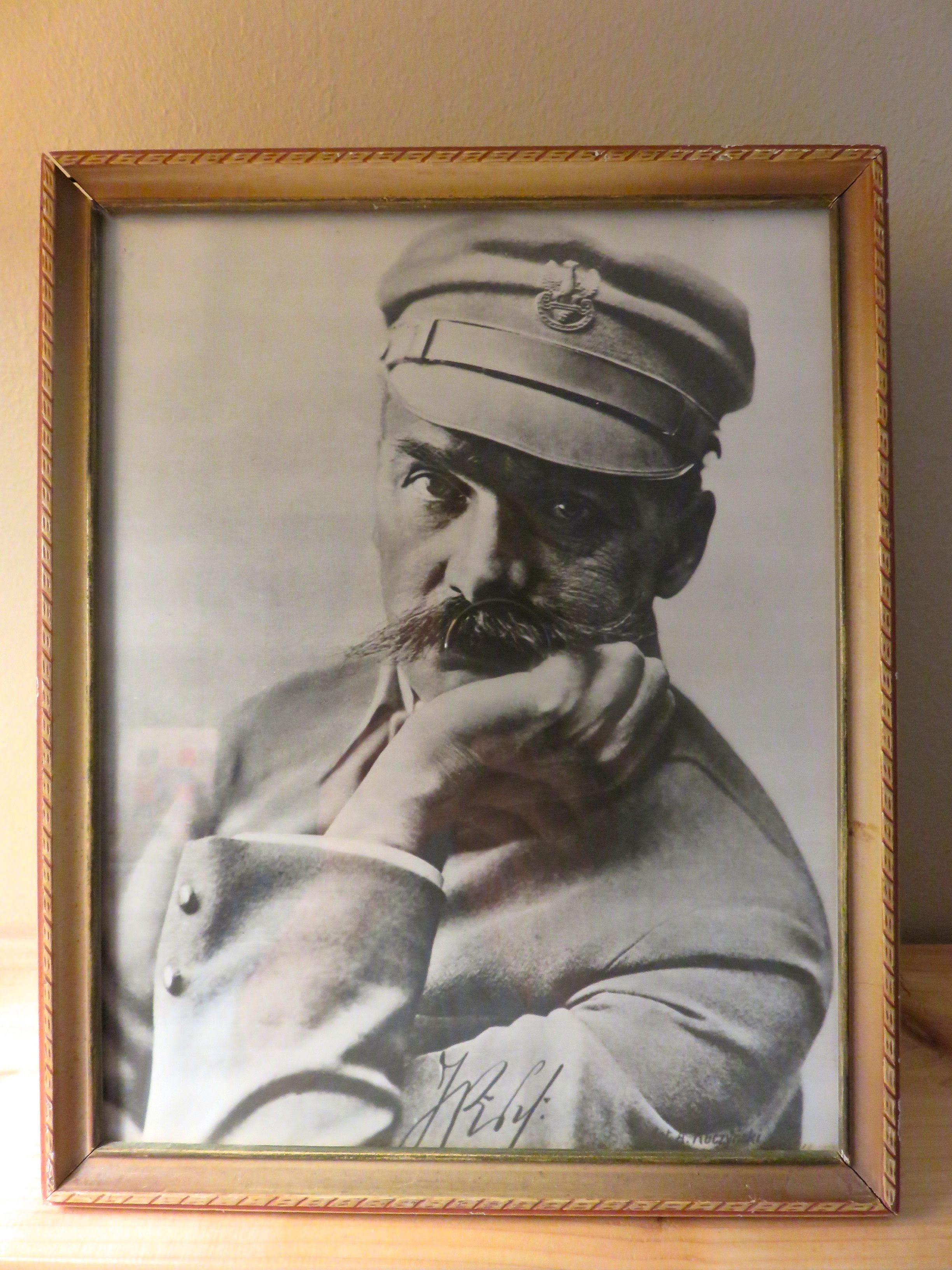 The photograph I've attached is from our second home on Detroit's northeast side, on Rogge Street. It sat in the spare room, on a bookcase that was filled with books from Poland. And after my mother moved to Grand Rapids in 1984, she brought the bookcase and the photograph with her. While I never asked her about the significance of it for her, I think that it represented both a symbolic connection to the Poland of her past and a tangible reminder of her husband/my father, who died in 1969 at the age of 74.
I do not know the origin of the photograph, although the frame has $1.50 penciled on the back, so it was clearly bought in the U.S. The photograph itself could have come with my parents when they emigrated from Germany to the U.S. in 1950, but it's more likely that it was acquired once they arrived here.
My parents were both deported forcibly from Poland during WWII. My mother, as a political prisoner, spent 15 months in various Nazi concentration and slave labor camps. My father, as a Colonel in the Polish army, spent the entire war as a German POW, in Oflag VIIA in Murnau. Thus, at the time of liberation from their respective camps, they had nothing from their former life in Poland. And since they emigrated from Germany without first returning to Poland, there were no objects accompanying them from that past life.
This photo-portrait must have been an important reminder of that Polish past, especially for my father. He had enlisted as a young man at the start of WWI with the Polish Legions of Józef Piłsudski, and after finishing his officer's training in 1918, he served in the artillery during the Polish-Soviet war of 1919-1920. Piłsudski was an important figure in his life, and his vision for a more pluralistic Poland was supported by both of my parents.
This history took on much greater significance for me, as I worked on a memoir/biography of my mother, which eventually became the book, A Polish Doctor in the Nazi Camps: My Mother's Memories of Imprisonment, Immigration, and a Life Remade (U. of Oklahoma Press, 2014). In the process of researching the historical context of her narrative, I gained a greater understanding of Polish history and a better appreciation of my father's past, which I knew very little about because I was just 19 years old when he died.