Wedding Ring
Karen Walczyk Prescott
The Ring
The 10K gold ring inlaid with rubies and pearls has the initial J inscribed on it. It traveled from Przasnysz, Poland in 1908 to the United States, shortly after my grandmother, Henryka Kolakowska Bulawa was born. Originally the ring had belonged to her great-grandmother, Jozefa. Henryka's mother, (Jozefa's daughter), had returned to Poland after only a year of lliving in the US in order to honor her beloved mother's death. Jozefa's will stipulated that the ring would be passed on to her first grandchild, whoever that might be. Already pregnant, Stanislawa would save the ring for Henryka and bring it back to the US.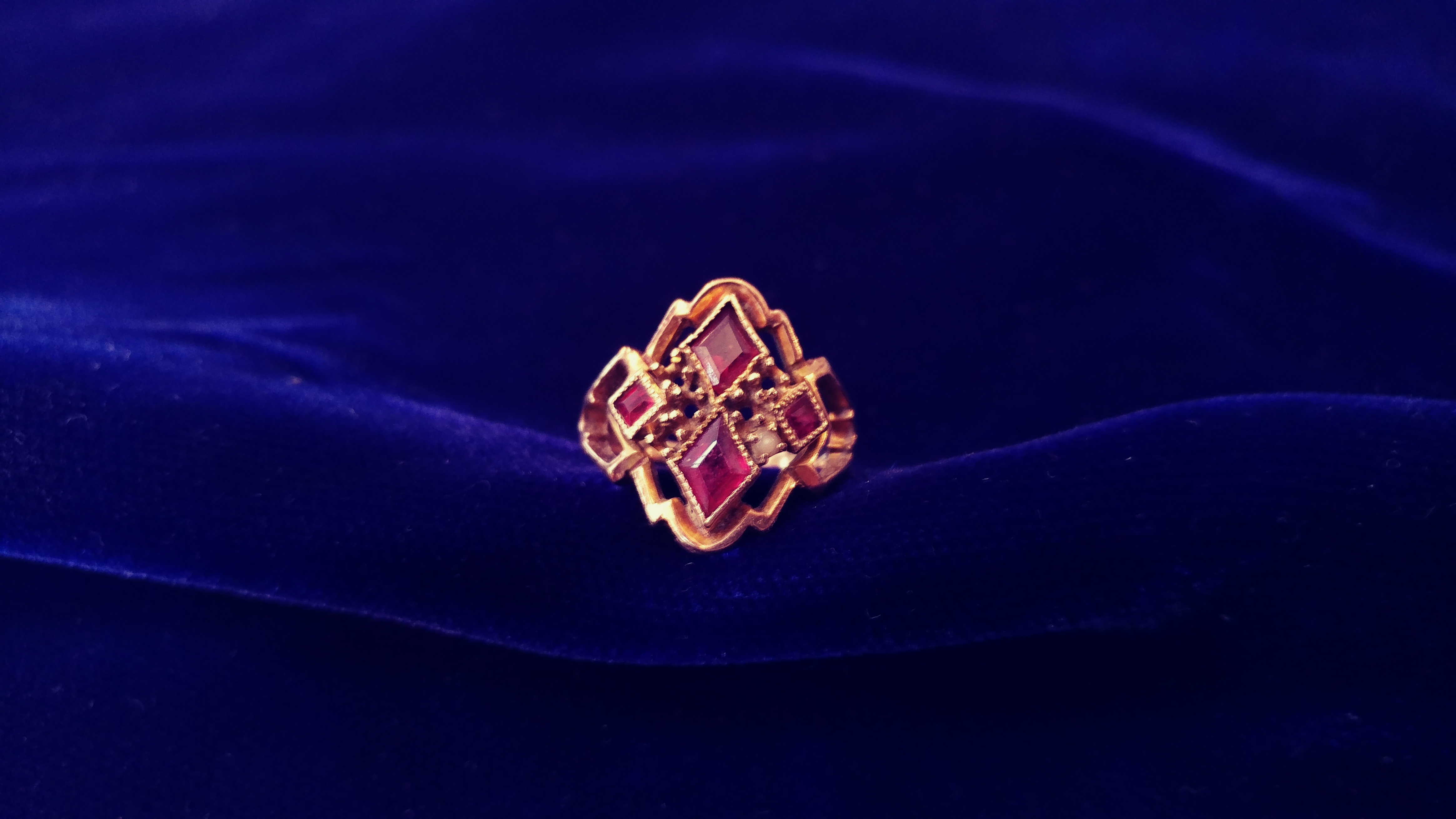 In 1929, when Henryka married Frances Bulawa in Syracuse, New York, her mother presented this very ring to her on the eve of her wedding. Along with the ring came the story of Jozefa Burkacka Szustecka. When Jozefa married Boleslaw Szustecki in 1888, Jozefa's mother-in-law had gifted her the ring.
Jozefa was touched by this generous symbol of their Polish heritage and would uphold the tradition of keeping it in the family. Clearly, her father-in-law's position as administrator of the Golany estate afforded them the means to give such a lovely piece of jewelry. As an educated and well-respected business man, Jozef Szustecki controlled economic activity on a large tract of land in Przasnysz, Masovian Voivodeship.
Over many years of marriage, Henryka wore the Polish ring on special occasions. Her eldest daughter and my mother, Eugenia Bulawa Walczyk, recalls when Henryka wore the ring for our family Wigilias, New Year's Eve celebrations, and Polish Charity Circle dinner dances at the Polish Home in Syracuse, NY, and over time, it became synonymous with good fortune and a strong bond with our Polish ancestry.
In 1992, when Henryka was in her eighties, the moment seemed right to give the ring to her eldest granddaughter, my sister, Claire. Henryka told Claire about her parents' emigration, a grandmother she wished she had known, and the many joyful moments when she herself wore the ring. Would Claire like the ring and would she keep it in the family as a reminder of our Polish roots? Yes, she would be honored. With this, the ring passed to Claire Walczyk Cotty.
More than thirty years later, Claire presented the antique cocktail ring to her goddaughter (my daughter), Barbara. The ring remains safely tucked away for Barbara's wedding day. She vows to keep it always as remembrance of the resilient women from our past.
So drawn to the emotional involvement the ring elicits, Claire, our mother and I were compelled to visit Poland. We visited the villages of our maternal ancestors: Jozefa, Stanislawa and Henryka. We saw the beauty of this country with its fields of great bounty. The agriculture in this section of Poland is very similar to that of our home in upstate New York. We came to understand a bit better why they chose to settle in an area that reminded them of home. Much has changed from the days when Stanislawa and her husband lived in a cottage (resembling those we saw in Poland) along the shores of Oneida Lake. What will not change is our appreciation of the meaning behind the ring and the spirit of the women who wore it.