MIECZYSŁAW B. B. BISKUPSKI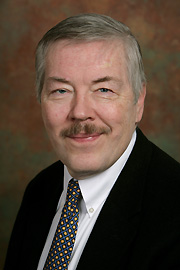 Dr. Mieczyslaw B. B. Biskupski
Polish and Polish American Studies, Central Connecticut State University

The Stanislaus A. Blejwas Endowed Chair in Polish and Polish American Studies at CCSU, Prof. Biskupski is the author of nine books, numerous journal articles, and a specialist in modern Central Europe. Before his appointment at CCSU, Dr. Biskupski was Professor of History and Graduate Professor of International Studies at St. John Fisher College in Rochester, NY. He earned his doctorate at Yale, where he was a student of Piotr Wandycz, and he has held Visiting Professorships at the University of Rochester, served as Fulbright Research Professor at the University of Warsaw, and, in 1997, he was a Fellow of the Central European University of Budapest. Bolek is the recipient of many academic and national awards, including the Honor Roll of Polish Science by the Polish Ministry of Education and the Officer's Cross of the Order of Merit of the Republic of Poland. He is a member of the Board of Directors of the Polish Institute of Arts and Sciences, and a past president of PAHA. Since 2013, Prof. Biskupski has served as the President of PIASA.
His books include:

The United States and the rebirth of Poland, 1914-1918

(Yale University Press, 1981);

American Polonia and the resurrection of independent Poland, 1914-1918

(Polish Studies Program, Central Connecticut State University, 1989);

Re-creating Central Europe: the United States "inquiry" into the future of Poland in 1918

(Simon Fraser University Press, 1990);

Poland and Europe: historical dimensions

(Columbia Univ. Press, 1993);

The history of Poland

(Greenwood Publishing Group, 2000), and Hollywood's War with Poland, 1939-1945 (Knoxville: University of Kentucky Press, 2010; winner of the Halecki Prize). He has also shared editorial credits with other eminent scholars; with James S. Pula he co-edited the

Polish democratic thought from the Renaissance to the great emigration: essays and documents

(East European Monographs, 1990); with Piotr Wandycz he edited

Ideology, politics, and diplomacy in East Central Europe

(University Rochester Press, 2003); and with Antony Polonsky he co-edited a special issue of Polin, vol. 19,

Polish-Jewish relations in North America

(Littman Library of Jewish Civilization, 2007).