Trochimczyk, Maja
Górecki in Context: Essays on Music, edited by Maja Trochimczyk (2017)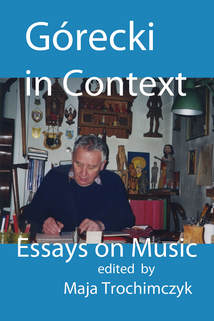 This volume gathers interviews and studies of the music of the Polish composer, Henryk Mikołaj Górecki (1933-2010). Contributors include the composer himself – in a series of interviews spanning his entire career, from 1962 to 2008 – as well as leading Górecki scholars from Poland, the U.K., the U.S., and Australia. Chapters highlight three of the four symphonies: the Second Copernican (Kinga Kiwała), the Third, The Symphony of Sorrowful Songs (Maja Trochimczyk) and the Fourth Tansman Episodes (Andrzej Wendland). Two studies by eminent Polish scholar and Górecki's personal friend, Prof. Teresa Malecka present the composer's links to Polish musical traditions and an overview of his piano music. An overview of Górecki's life and career and a case study of his visit to Los Angeles in 1997, when he conducted his Third Symphony for the first time outside of Poland, round up the volume. The collection includes also a list of works, music examples, photographs, and a bibliography. ISBN 9781945938108. Paperback, 420 pages, More information, table of contents, prefacemay be found on Moonrise Press Website and Moonrise Press Blog.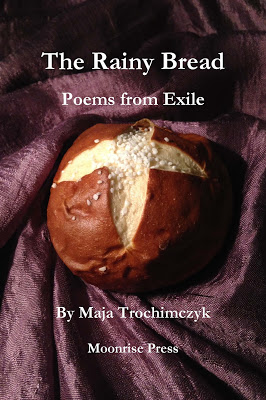 The Rainy Bread - Poems from Exile by Maja Trochimczyk (2016)
This poetry volume includes 30 poems about forgotten stories of Poles living in the Eastern Borderlands of Kresy, who were killed, deported, imprisoned, or oppressed after the invasion of Poland by the Soviet Union on September 17, 1939.
These are depictions of survival of other Poles deported to Siberia, the Arctic Circle, or Kazakhstan; who left the Soviet Union with the Second Corps of the Polish Army under General Władysław Anders; were transported to refugee camps in India or Africa; and ended up in Argentina, Canada, Australia or the U.S. The book is a companion to "Slicing the Bread: Children's Survival Manual in 25 Poems" (Finishing Line Press, 2014), with which it shares some poems, including vignettes from the author's childhood in Warsaw, permeated by the strange rhetoric of the Polish People's Republic, yet still overshadowed by the war. Honored by PAHA's 2016 Creative Arts Prize. I
SBN 9781945938009, paperback, 64 pages
ISBN
9781945938016
,
eBook.
Lutosławski: Music and Legacy,

Edited by Stanisław Latek and Maja Trochimczyk (2014)
Publication details: Montreal : Polish Institute of Arts and Sciences in Canada ; Cracow : Polish Academy of Arts and Sciences, 2014. ISBN 9788376761992 / ISBN 8376761994 / ISBN 9780986885143 / ISBN 0986885142. Polish and Canadian copies have distinct ISBN numbers. Lutoslawski: Music and Legacy contains proceedings of the International Lutoslawski Conference, held at McGill University, Montreal, Canada, November 21, 2013, as well as interviews with the composer and documents from his 1993 visit to the Polish Institute and McGill University.
Chopin with Cherries: A Tribute in Verse, Edited by Maja Trochimczyk (2010)
An Anthology of Contemporary Poetry edited by Maja Trochimczyk, ISBN 978-0-9819693-0-5 (paperback), ePub e-book format, or PDF Download with color photos, contains 123 poems by 92 poets, a list of Chopin's works cited by the poets, the editor's introduction, and index. Also includes 50 illustrations and portraits, from vintage postcards of scenes from Chopin's life and death, and interpretations of his music. This volume celebrates the 200th birth anniversary of Polish pianist-composer, Fryderyk Chopin (1810-1849). Ninety-one poets are represented here; they live in the U.S., England, France, Mexico, the Philippines and Poland - with family roots in Poland, Australia, China, France, India, Italy, Malta, Mexico, the Philippines, Serbia, and other countries. The anthology includes more than 122 poems in English, and one important Polish poem, Cyprian Kamil Norwid's Fortepian Szopena, in a new English translation by Leonard Kress (this is the first English translation of Norwid's masterpiece, considered too difficult even by the translator of his entire oeuvre, Adam Czerniawski). English-language classics include verse by T. S. Elliot, Emma Lazarus and Amy Lowell.
http://moonrisepress.com/chopin-with-cherries-anthology-by-maja-trochimczyk.html
A Romantic Century in Polish Music, edited by Maja Trochimczyk (2009)
Published in December 2009,
ISBN 978-0-9819693-3-6
, this volume brings together a series of essays on some of the less known aspects of music making in Poland in the 19th century and early 20th century. Eight studies of diverse aspects of Polish musical culture are presented chronologically from about 1818 to 1939, the outbreak of World War II.
The authors, based in Poland, Germany and the U.S. include eminent scholars specializing in Polish music of the 19th and 20th centuries: Magdalena Dziadek, Maria Zduniak, Martina Homma, Krzysztof Rottermund, Krzysztof Szatrawski, and the editor. More information on
Moonrise Press Site
.